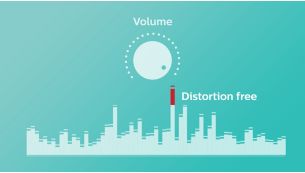 Anti-clipping function for loud, distortion-free music
Anti-Clipping lets you play music louder and keeps the quality high, even when the battery is low. It accepts a range of input signals from 300 mV to 1000 mV and keeps your speakers safe from damage by distortion. This built-in function monitors the musical signal as it goes through the amplifier and keeps peaks within the amplifier's range, preventing the audio distortion caused by clipping without affecting loudness. A portable speaker's ability to reproduce musical peaks decreases along with battery power, but anti-clipping reduces peaks caused by low battery, keeping music distortion-free.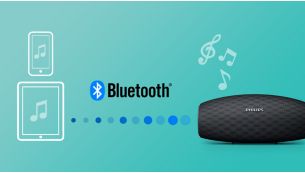 Wireless music streaming via Bluetooth
Bluetooth is a wireless communication technology that is both robust and energy-efficient. The technology allows easy wireless connection to iPod/iPhone/iPad or other Bluetooth devices, such as smartphones, tablets or even laptops. So you can easily enjoy your favourite music and sound from videos or games wirelessly on this speaker.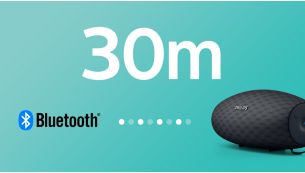 Strong Bluetooth connection up to 30 m or 100 ft
Move freely around with your smart phone, without worrying about dropping your music. EverPlay speaker offers an incredibly stable and long range Bluetooth connection up to 30 metres or 100 feet, three times faster than industry standards. The speakers are equipped with a sensitivity antenna and radio frequency filter to minimise background interference.
Quick-charge recharges speaker 3 times faster
Charging the speaker usually takes quite some time. EverPlay offers a quick-charge option that can recharge the speaker three times faster than a normal USB adapter. By using a Qualcomm Quick-Charge adapter (not included), which is commonly used in new Android phones, to charge the speaker, the charging time is much faster.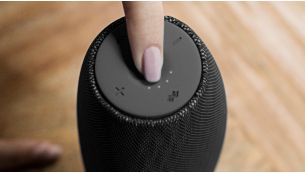 Battery indicator to easily view power level
Finally, a Bluetooth speaker that provides a simple, clear way to see how much remaining power you have! With EverPlay, simply push the power button to see how much battery is left.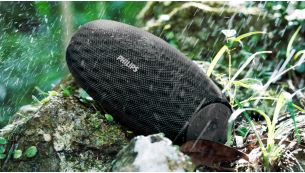 Durable build – shockproof, dustproof and waterproof (IP57)
EverPlay speaker is super durable and features dust, shock and water resistance. Dust cannot interfere with the operation of the speaker. And it is able to withstand immersion in water up to 1 metre for up to 30 minutes. This means that a session in the shower, getting caught in the rain or a quick drop into a body of water will not cause damage. Under Shockproof designation, this product is tested in a "Torture Chamber" to undergo a roller swing test with simulated 5-year product life-time reliability. EverPlay is truly durable!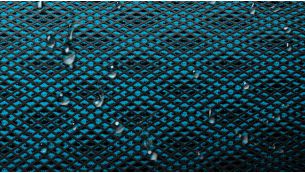 High-performance DuraFit fabric
The DuraFit fabric covering the speaker provides both functional and aesthetic benefits. With upper rubber overlays covering a matching accent-coloured cloth, the anti-slip, scratch-resistant and washable material offer additional protection, while the unique rhombus mesh pattern also gives it a more modern, sophisticated style.
Big sound from front-firing neodymium speaker
EverPlay speaker makes no compromises when it comes to quality sound. With a front-firing neodymium driver, it delivers clear, natural, powerful sound with deep and rich bass. Perfect for any style of music, whether you're playing it outdoors or indoors
Bass radiators for extra bass boost and extension
EverPlay speaker gives powerful sound from a compact form factor, with the help of a large bass radiating area. It delivers extra bass boost and extension.
Built-in microphone for hands-free phone calls
With its built-in microphone, this speaker also works as a speakerphone. When a call comes in, the music is put on pause and you can talk via the speaker. Call for a business meeting. Or, call your friend from a party. Either way, it works great.
USB cable doubles as a strap
Recharging has never been so easy. When the power starts to run low, use the handy two-in-one strap-USB charging cable. Plug it in for power, or use it to attach the speaker to a bag for easy portability.